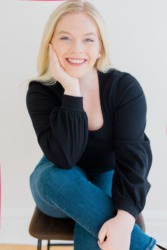 Nice to meet you! I'm Angela. 
You may see me in our SCHNEIDER Real Estate posts on social media! I work as a designated agent with both buyers and sellers in the Metro St. Louis area. This means I serve Lincoln, St. Charles, Jefferson, and St. Louis County & City. 
If you're interested in living on either side of the river, I have agents I collaborate with often on the Illinois side so we can find the best property for you!
How did I wind up here? When I went away to college at Truman State University, I studied Business Marketing. During this time I worked for the football team, ran a private tutoring business for local grade schoolers, and was a member of Alpha Sigma Alpha sorority. After 3 and a half years & still only a semester away from my Bachelors degree, I realized I wanted to sell real estate and headed home for St. Louis! Evidently I loved it, because I never looked back!
The approach I take to each transaction is educating. Most people don't buy houses every day, there is a lot to learn and take in each time. My role is to help you understand the process, explain your options, and assist you in making educated decisions. Although I may be giving directions, the client is in the driver's seat with the wheel in hand. I like to empower my clients to make the decision they see fit in each situation, retaining their autonomy throughout the transaction.
Friends would describe me as empathetic, family would describe me as dependable, and clients would describe me as meticulous.
If this describes what you're looking for in an agent, don't hesitate to reach me at 314-249-1497 to start the buying or selling process!